DJANGO NOTES
A good amount of this webpage has been sourced from this video. Please watch it. I do not claim to be the source for any of the content shown here. This page exists as a personal diary of what I am being taught.
Here is my personal set of Django notes for the python programming language. This is my effort to break away from PHP backend work into a strictly python environment.
What is DJANGO?
Django is a fancy pants python framework for hosting websites and services using Model View Controller design philosophy.
What is the structure of a Django application?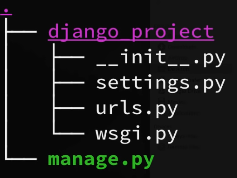 manage.py: DOn't worry about it. It lets you run command line commands. THis file resides in the root folder of the project.
django_project: The project file, it contains all the major parts of the project. There can be more than on of these

__init__.py: This is an empty file, it tells python the project is a package.
settings.py: This is where we change the settings and configurations of the project. Place all project settings in this file.
urls.py: IMPORTANT FILE! This is the URL mappings file. Any url the program recives (ie.. www.app.com/myPage), it routes it to the proper method/page.
wsgi.py: This is the way python communicates with the WEB SERVER.
---